Are solar storms happening more and more frequently now? It seems so to me. Their effects take about 3 days to reach Earth (so – end of this week for this one), and can cause an array of anomalous experiences for us. What we usually hear regarding this phenom pertains to colorful auroras in the sky.
But more goes on during these events than meets the eye; auroras are the tip of the iceberg, so to speak. This article covers what we might notice in various ways and in various degrees of intensity.
Spiritually, solar storms are often perceived as gateways to higher dimensions, so perhaps all this solar activity acts as a form of ascension trigger for the planet, as Alex Myles explores in this piece.  ~W
---
April 10th & 11th: Powerful Solar Storms Causing Intense Energy Shifts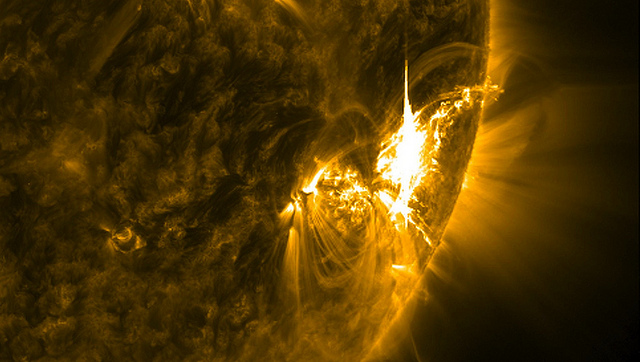 The National Oceanic and Atmospheric Administration (NOAA) has issued a G1 (minor) geomagnetic storm watch for Tuesday and Wednesday, the 10th and 11th of April.
The Space Weather Prediction Center (SWPC) explains that the storm is due to "the arrival of a negative polarity coronal hole high speed stream."
Currently, there are three substantial canyon-shaped coronal holes that have opened up on the face of the sun. Streams of high-speed solar wind (hot plasma) are being ejected from these holes, which is traveling the 93 million miles from the sun to Earth at speeds that can reach up to 2,000,000 miles per hour. Continue reading →